Fans of the video gaming world have three major platforms on which they enjoy the modern-day gaming titles which include the PC, Xbox, and PlayStation.
The latter two platforms have recently launched their latest iterations which have made the gaming sector quite hot for now and one question that has been bugging avid gamers is regarding which is the better platform, Xbox Series X or PlayStation 5.
This article aims to discuss these two very popular gaming consoles and what differentiates them from each other.
Hardware Of Both Consoles
First and foremost, the element that distinguishes one platform from the other is the hardware that each uses. In which, the hardware used to build a gaming system greatly affects the overall gaming performance.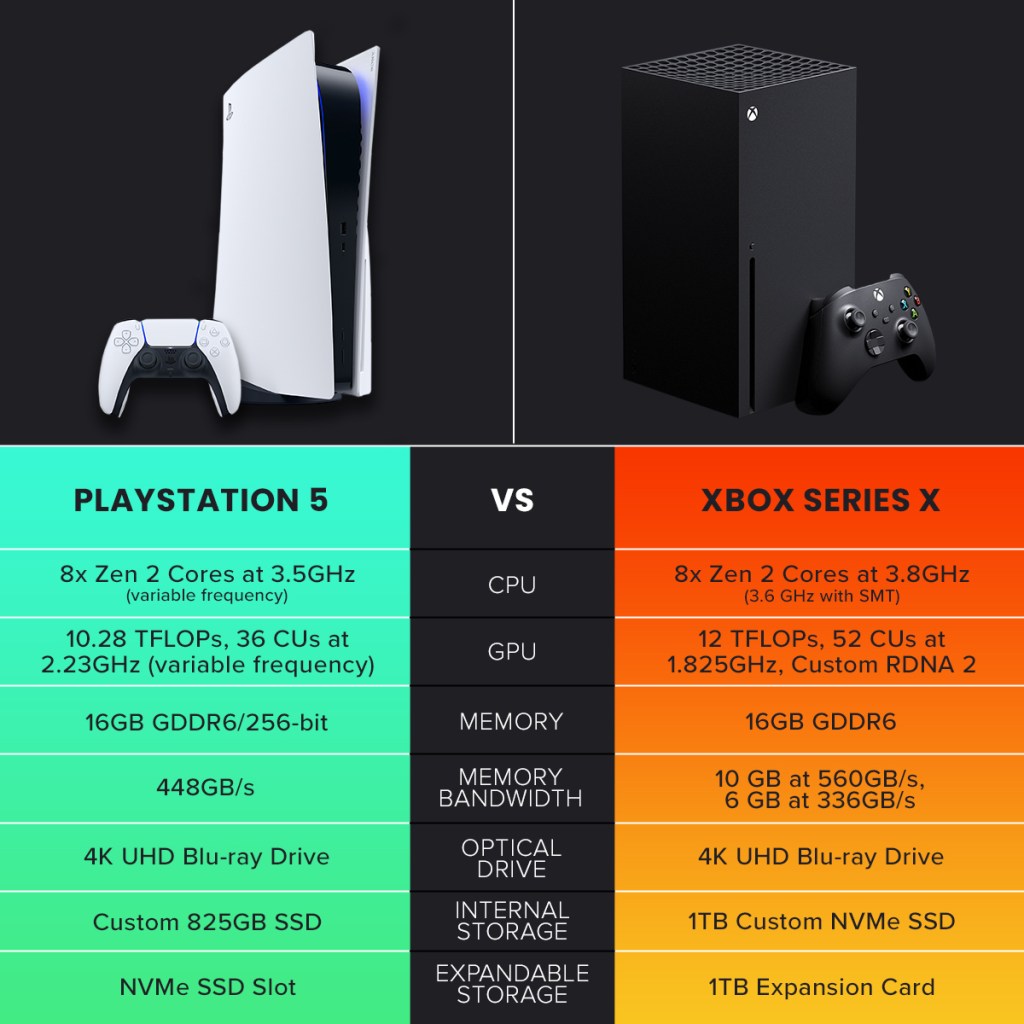 PS5
The PS5 has an 8 core 3.5 GHz AMD Zen 2 CPU with 10.3 teraflops AMD RDNA 2 GPU along with 16 GB GDDR6 RAM. The console features 825 GB custom SSD and up to 8K resolution. It has a frame rate of 120 fps and the standard version of PS5 uses 4K UHD Blu-ray discs.
Xbox Series X
In contrast to this, the Xbox Series X device has an 8 core 3.8 GHz AMD Zen 2 CPU with 12 teraflops AMD RDNA 2 GPU along with 16 GB GDDR6 RAM. The console features 1TB custom NVME SSD with up to 8K resolution. The device has a frame rate of 120 fps and uses 4K UHD Blu-ray discs.
So, at least on paper, the Xbox Series X blows the PlayStation5 out of the competition with its superior processor, more storage space, and better GPU. However, what the experience actually looks and feels like depends upon several mechanics that may or may not give the Xbox Series X an upper hand.
Money Matters
No comparison can be complete without discussing the money matters which can affect the purchase decisions of buyers.
The standard versions of both gaming consoles carry an identical price tag i.e. $499. However, it is pertinent to mention that the Digital Edition of PlayStation 5 comes at a lower price, $399. Although, not many players appreciate the Digital Edition of PS5, still the option exists to get the device at a reduced price with a similar spec sheet.
The Xbox Series S is also a gaming option but as it carries an entirely different feature set, it can in no way be compared to the PS5, so we are keeping this discussion confined to the Xbox Series X.
Thus, the PS5 wins in this category by presenting an additional and comparatively cheaper version of the device.
Games Exclusive To Each Platform
Most modern-day games are available on not only both these gaming platforms, but also on Microsoft Windows. However, there are a few franchises that are exclusive to a particular platform, and thus if players want to play those exclusive games, they are bound to stick with that console only. The following titles are available exclusively on PS5:
Astro's Playroom

Demon's Souls

Destruction AllStars

Gran Turismo 7

Ratchet and Clank: Rift Apart

Returnal
The following titles are available exclusively on Xbox Series X:
12 Minutes

ARK 2

Avowed

CrossFireX

Echo Generation

Everwild

Exo One

Forza Horizon 4

Forza Motorsport 8
Loyal Customers Of Each Platform
Furthermore, it is a general perception that players of the Xbox One will want the upcoming versions of the gaming titles they had previously been enjoying in a better and more refined manner. Thus, the Xbox Series X carries forward those titles and the same goes for the PlayStation community which wants their existing titles and their upcoming versions in better quality than before.
So, this segment depends upon personal preferences more than the overall performance of each console, but we can't deny that for now, PS5 has a better and more diverse range of gaming titles.
Console Design
The console design isn't something that affects the performance of games but still, the device has to be visually appealing to attract the attention of buyers. The PS5 design might look asymmetric and visually unattractive to conventional thinkers but for most gamers, it is a bold design that makes it distinct from the previous versions and competitors.
The combination of black and white colors makes the device extremely attractive and the size of PS5 is also quite large when compared to Xbox Series X thereby the console has more presence which might be something you are looking for when you are spending this much money.
PS5, A Fingerprint Magnet
However, it needs to be mentioned that switching the PS5 from vertical to the horizontal configuration is by no means an easy task and the front side of the device being glossy is a fingerprint magnet so make sure to keep a piece of cloth close by for wiping it clean regularly.
Xbox Series X Isn't Bland Either
The comparatively typical design of the Xbox Series X might not feature the bold looks of PS5 but it in no way looks bland. The controllers of Xbox are particularly famous for their well thought over button adjustment which is something that has been carried forward to this version of the console as well.
Final Verdict
Sony is making big claims about the latest SSD featured in the PS5. The device exhibits extremely high data transfer rates which are likely to make the game loading experience much faster. But in the end, it all comes down to the personal preferences of gamers and their loyalty, or better yet, nostalgic ties, to the console of their choice.